Questions to Ask and How to Choose the Right Custom Development Agency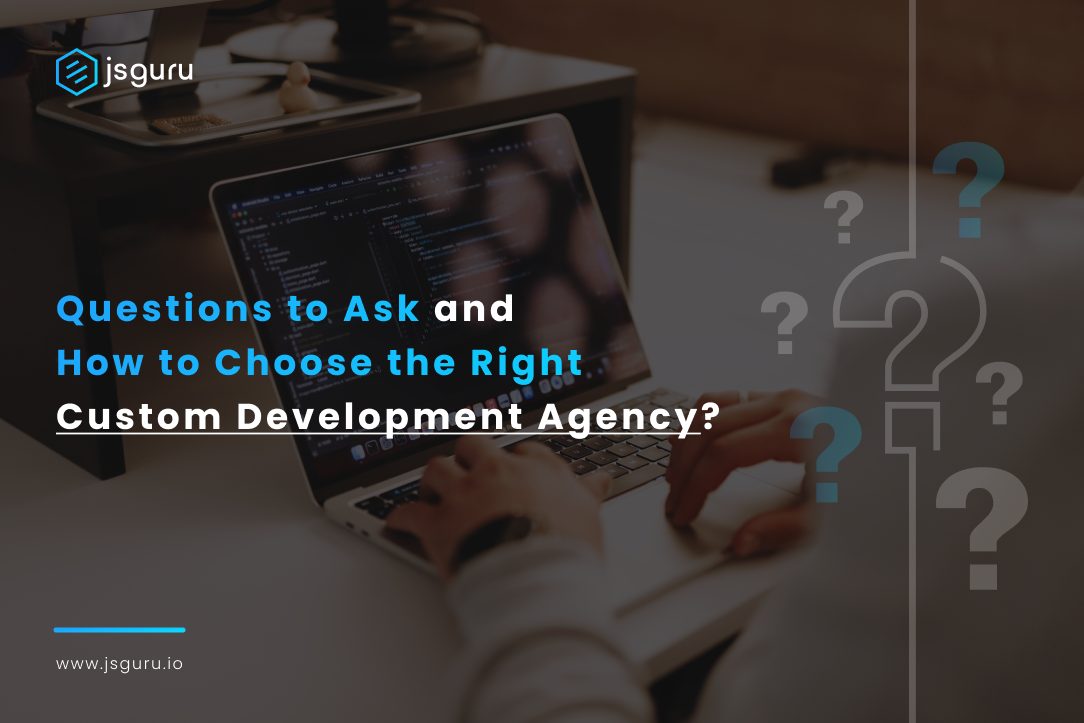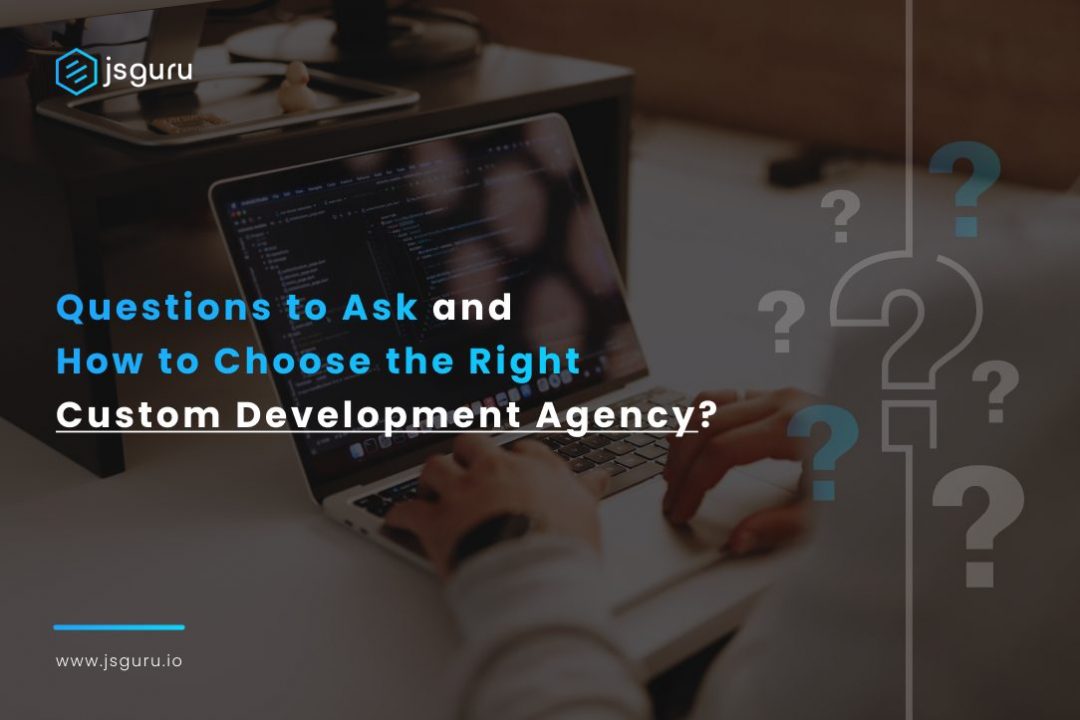 Table of Contents
Startup founder, we salute you!
There's a rocky road ahead, yet you are still willing to embark on this journey. Statistics regarding startup success are rather underwhelming, and moving from an idea to a tangible product is challenging. Yet, despite the odds stacked against you, you have decided to go into something risky, which is truly admirable. The upside is that in every good adventure help can be found along the way.
Before your idea takes off the ground, outsourcing the development part could be one of your options. Outsourcing is perfect for startups that want to focus on the core of their service/product and leave some or all of the product development phases to the experts in the field.
This route makes sense for many startups, but not for every single one. If you have cutting-edge tech or sensitive data, it's worth taking your time to consider if this is the right direction for you, but you're probably already aware of this.
Let's take a look at some tangible benefits of outsourcing your product development to an agency.
Outsourcing Benefits
the plainest and most obvious is lower salary expenses
you don't have to go through the hiring process yourself, meaning you can focus your HR efforts on your company culture and keeping people happy
scaling up or down is easier with an agency
office expenses are significantly lower
the agency takes care of the employee professional education, so again, there are high cost and time savings in this segment
you have more time to focus on the core of your business
agencies have domain knowledge that can be used for significant time savings and product improvements
if a technical problem occurs, the agency is usually also a community of IT people that are heavily invested in the topic and can solve it faster and with less hassle
agencies can be your all in one solution if you pick the right one and have clear roadmaps and milestones set in place
Now that we've covered the upsides of outsourcing, let's take a look at the shortcomings, too.
Outsourcing Downsides
you need to work harder and potentially pay lawyers to protect your intellectual property
the process of picking an agency can be a long one, involving a lot of research and due diligence
many agencies boast with things that are exaggerated or downright false for marketing purposes
it's harder to transfer your startup/idea to a team that is not near you
it's harder to protect your interests from a legal standpoint
shady agencies can have the same people working on multiple projects, or even worse, they can also outsource the work to someone else
Do I Fully Trust the Agency With the Product Development or Should I Just Augment My Existing Team
If you're wondering what the right choice is for you – full service or just a small staff augmentation, it's tough for us to give you a clear-cut answer because so many factors influence this decision. For example, your investors want to keep the most senior tech staff in-house, or you already know a designer that's a good fit to join the project for a couple of months. The important thing is that you can always scale up or down, depending on your needs at the moment. It would be best to provide a roadmap of potential changes to the agency so they can prepare adequately for everything that's coming in the future.
In our works section, you can see the projects we've done, the exact services we provided if it was a full package or just a couple of them. This can maybe give you a good sense of how to structure things if you have a similar product.
How to Pick Your Next Outsourcing Partner
While presenting their skills, the agency will probably emphasize quality and their successful case studies. It is not always easy to decide if the story is true or just good PR. However, there are some key points you could pay attention to and get a better picture of the vendor you are talking to get to the truth.
Recommendation
Yes, a good old recommendation still works both in life and in business. Having someone who has already collaborated with the company (and even more importantly, is happy to work again) give a word of praise is a great starting point. As an agency with approximately 80 people (at the time of writing this post) we are highly relying on the recommendation factor, and through all of our development stages this was one of the primary factors of growth
Industry background
If your candidate checks the above box, then it is probably good advice to search which industry niche they have been working in. As they grow, agencies tend to specialize in certain industries. It doesn't have to be an elimination factor, but it is always great to have somebody that already possesses the domain knowledge and you don't need additional effort and time to educate them.
This is especially important for industries like health, insurance, finances, as they are highly complex with a myriad of branches requiring deep knowledge and experience.
Look at the review platforms
All outsourcing agencies are keen to showcase their work and experience to the world. This is their chance to stand out in the ocean of other agencies and to create visibility. Especially if they specialize in certain niches.
A simple step would be to go on Clutch and take a look at the agency profile, industries they are working in, sizes of the projects and, most importantly, client reviews. As an agency that has invested in building a great profile on Clutch, we might serve as a good example, check it out!
Testimonials and previous clients
Yes, this is still the best proof that the agency is worth further investigation and negotiation with. Everyone starts with the first client at some point, but it is a big advantage if they can show you a portfolio and case studies. In most cases, this is visible at first glance going through their website and an easy way to shortlist them if you like their previous work.
Another big question is "Who are their clients?", Even more importantly, "Are they willing to give you contacts of those clients?". Agencies that do their job well usually have a ready portfolio of happy clients willing to advocate for them.
Who are you speaking with?
Is the first call with some sales representative or with a C-level staff? Unless you are talking to some smaller dev shops (which is fine) then having the first contact with a high executive or even founder shows deep dedication and a true sign of possible partnership. Your time is valuable and you want to talk to decision-makers.
Additionally, if that person has a technical background, then you are probably in good hands as he or she will be able to collect the right info and advise not just on the business and operations level, but also have a deeper understanding of the technical challenges.
Are they listening?
The first rule of sales is, "It is not about you, it is about the client". Are they talking more about themselves and all the miracles they can do for you or are they showing genuine interest in what you have to say and the challenges you are dealing with? Are they asking about the high-level goals of the project and trying to understand your motivation behind it?
If you are talking to someone who is a good listener, asking the right questions to gain deeper knowledge about key issues and advising on possible solutions, then there is a big probability that you are speaking to a great candidate for your next outsourcing partner.
Are they proactive and genuinely interested?
Agencies that are really in love with what they do, are passionate about finding solutions to your problems and will give you advice even when you are not asking for it. Be on the lookout if they came ready for the introductory meeting. After the initial meeting, wait and see if their team maybe reaches out with some additional research on the subject of your discussion, then you know that they are keen to help and you can add one more check in the "Pros" column.
Help Them Help You
Working on your dream project is highly reliant on collaboration. An agency that holds its standards high will ask many questions and you should be ready to answer them. Your dedication is as important as theirs. To help you in this process, we've compiled a few common questions that could help you with the deeper segmentation of your project.
Answering these questions can be a great resource should you decide to go with an agency. When you have them prepared upfront, they can figure out the scope sooner and give you more detailed input. You don't lose time on additional meetings and you are productive from the get-go.
​​Business & Finance
What is your industry?
What is the problem you are solving or the solution you are offering? What is the big idea behind it?
Who is your direct and indirect competition?
Who is your target audience?
Do you prefer time and material or fixed pricing?
Do you have a predefined budget?
Do you have specific dates for the MVP? And the next phases?
What are your long-term plans?
Operations & Technical
What is the main feature of your website/app?
What is your preferred channel of communication?
What is the main feature of your website/app?
How will users interact with the solution? Which platforms do you need to cover?
Do you have a preferred cloud provider?
Are there any preferences in terms of technology (backend and front end) you would like to use?
Is there any piece of technology already built by you or does everything have to be done from scratch?
Are you going to support different packages with different limitations applied based on the selected package?
Are there any privacy constraints regulated by your government that we need to obey? GDPR?
Are there any restrictions on the location where data is stored and kept? Is it limited to some region (US, UK, EU, etc)?
Need a payment integration? If yes, what would be your payment processing gateway of choice? Which payment options do you prefer for your users? Stripe? Apple Pay? WeChat Pay? Some other options?
Do you need us to build also a website for you?
Is there a requirement for multilingualism support?
Do we assume that we will need some kind of admin panel for you to manage the system?
Do you need any resources after the MVP?
Do you require maintenance of the solution?
If you require maintenance, is there a need for 24/7 support?
Who will be the primary contact for questions, the discovery/inception phase, etc?
Is there any technical or project management person on your side to be working with?
UI & UX
Do you need UI/UX for the solution?
If you need a UI/UX, do you have samples you would like to be followed? Are there any other related products that fit with your brand?
Do you need branding (colors, logo, typography, etc)?
Do you have a Brand Guideline? (If not, please provide below: 1. Name of your Brand; 2. Slogan if you have; 3. Colors that you would love to use; 4. Examples of logos that you like.
Some examples of Websites or Applications that you like?
Do you have any textual content for your Application/Website?
Is there anything additional or any special design requests that you would like to add?
Tools That Can Help You In Your Product Development Journey:
Resources: