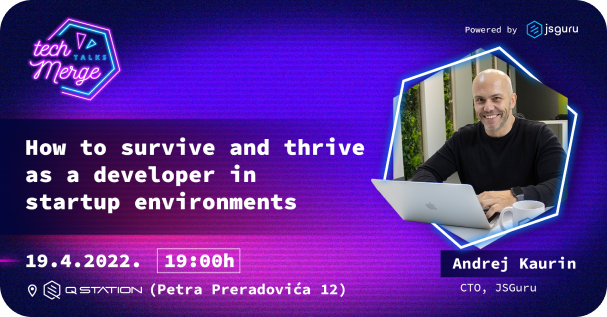 How to survive and thrive as a developer in startup environments
QStation Hub
Petra Preradovica 12, Banja Luka 78000
19.04.2022. 19:00h
Prijavi se
Detalji:
JSGuru predstavlja novi serijal događaja pod nazivom Tech Merge. Prvi u nizu događaja će se održati 19. aprila u 19:00 časova na temu: How to survive and thrive as a developer in startup environments
Predavač: Andrej Kaurin CTO, JSGuru
Šta ćete čuti:
Osnove Startup okruženja;
Kako da prepoznate pravu startup nišu koja će vam najviše odgovarati;
Kako uspješno komunicirati u ovakvim okruženjima;
Startup dev trendovi u 2022;
5 najbitnijih stvari koje je naučio radeći sa startupima preko 15. godina.
Malo iznenađenje! S obzirom da u našim redovima imamo veoma muzikalne članove i da bismo stvarno proslavili otvaranje nove sezone događaja kako dolikuje, za sve učesnike smo pripremili akustičnu svirku preko puta Q Station-a, u kafiću KAB, kako bi se mogli opustiti i povezati nakon događaja. Naš Aleksandar Rujević za gitarom, a piće dobrodošlice na nas!
#TechMerge je nastao sa ciljem da se pruže uvidi u aktuelne tehničke teme, te podstiče, promoviše, ali i poveže lokalna IT zajednica u Banjoj Luci, čitavoj BiH i Srbiji.
Podijeli događaj: